Image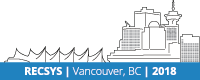 How Algorithmic Confounding in Recommendation Systems Increases Homogeneity and Decreases Utility
Type
Conference Proceedings
Abstract
Recommendation systems are ubiquitous and impact many domains; they have the potential to influence product consumption, individuals' perceptions of the world, and life-altering decisions. These systems are often evaluated or trained with data from users already exposed to algorithmic recommendations; this creates a pernicious feedback loop. Using simulations, we demonstrate how using data confounded in this way homogenizes user behavior without increasing utility.
Conference Name
Twelfth ACM Conference on Recommender Systems (RecSys '18)
Conference Location
Vancouver, BC, Canada.